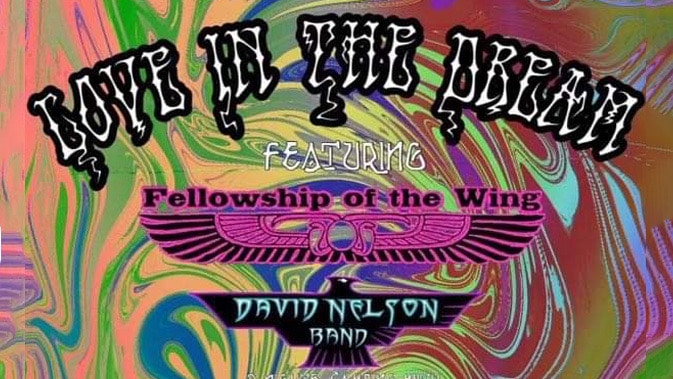 LOVE IN THE DREAM IS A COLLECTIVE MOVEMENT. AS A COLLECTIVE WE CAN KEEP THE MUSIC ALIVE IN THESE TRYING TIMES. JOINING TOGETHER IN A SAFE SOCIALLY DISTANCED SPACE TO SUPPORT OUR FAVORITE ARTISTS IN OUR FAVORITE COMMUNITY; SMILING AND DANCING LIKE THE MUSIC NEVER STOPPED.
This event will take place on June 18th and June 19th for now in an undisclosed location near Placerville California. Two nights of camping and two days of music featuring two nights of Fellowship Of The Wing along with four other bands including David Nelson Band, Grateful Bluegrass boys, Caltucky , and Patt Otto and friends.
In purchasing a ticket you're supporting the symbiotic relationship of artists and the smiles they bring to our hearts and movement to our bodies. Its time to enjoy the music once again!
INFORMATION:
Expect a good ole fashioned get down! Outside, fresh air, and plenty of space to create a comfortable environment for social distancing! Two nights of camping is included in your ticket. NO REENTRY for each day. Totally understand if you do not want to camp and decide to leave after the last set on the 18th however if you leave before the last act you will not be abled to return back that day. This is a BYOB event please be responsible and do not bring any glass, upon arriving we will have cooler checks. Please be responsible in consumption and keep it family friendly. This is a tent friendly event plan to bring food. BRING ICE. NO DOGS. There are bathrooms onsite along with river access for swimming!
Please note there is a 10pm sound ordinance music coming from speakers after 10pm will not be tolerated let's all be respectful of the space given to us!
It's important to touch back on and remind ya'll this is a COLLECTIVE without you and your support this event would not be possible so thank you!! Everyone coming together safely is important to me so please bring your mask and respect the space of your community, especially the artists.
Music will begin at 3pm on the 18th as the time comes closer I will send an email out to everyone regarding directions and time slots for people to arrive. This is very important to keep everything running smoothly.
If you are interested in shakedown please email me directly sarahparlich@yahoo.com
Without love in the dream it'll never come true
NFA~ Sarah
David Nelson Band Plays 2 Sets: June 19th @ 4:00 PM