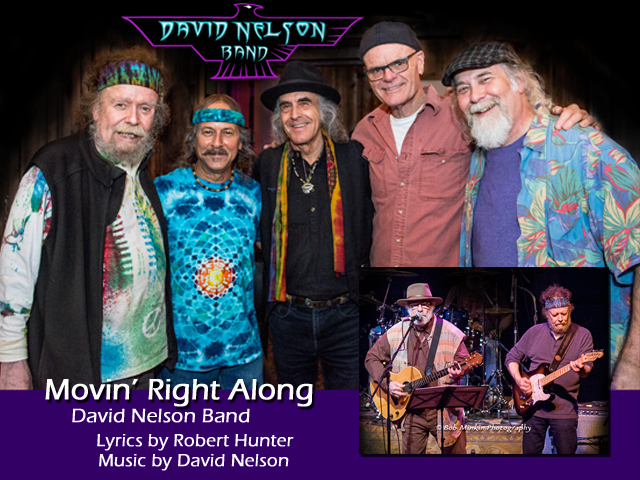 A New Song from Robert Hunter…
Music by David Nelson
FOR IMMEDIATE RELEASE
About five years ago, Robert Hunter, sweet be his memory, sent his old friend David Nelson a stack of lyrics. David's written music for several of them, some of which were on the David Nelson Band release Once In A Blue Moon.
The DNB finished another song, "Movin' Right Along," but for whatever reason—perhaps because it seemed so very intense—it sat and waited. And on September 23rd, Robert himself moved along to wherever we're all going, and it seemed appropriate to share it with you.
Although the song is about a character who clearly isn't Robert, it's also hard to avoid the thought that Robert was contemplating his own mortality in "Movin' Right Along," since it's filled with images of war, strife, and death: "I have died for liberty, fought heavy hard and long / I have died in poverty, moving right along / I'm about to blow this joint so listen to my song / I have died to prove a point, moving right along."
Hunter was busy and productive until very near the end of his life, and lord only knows how many lyrics he left behind. But in the circumstances, "Movin' Right Along" will be a special testament to his power as an artist and the love and overwhelming respect that his audience has had for him for these many years.
"Movin' Right Along" will be available on January 22, 2020, from ITunes, Apple Music, Spotify, Amazon, Pandora, TikTok, and just about any other digital music platform you can think of. It is available for preorder now at those sites.
Press: D. McNally (415 310 2448). dennismcnally@mac.com
The David Nelson Band: www.nelsonband.com